PLOSAB Ltd. – sediment removal, maintenance & treatmnet of water bodies
Plosab Ltd. is a company, which has been for many years engaging in complex sevices in the fields of removal of silt and the maintenance of water bodies. We specialize in so called "wet route" dredging with the help of floating suction excavators.
As well as the silt removal – exctraction of sediment from lakes, pools, reservoirs, catchpits, rivers, streams etc. We also carry out cutting and cleaning of vegetation from water bodies with the help of cutting boats. Our amphibious machines are able to operate (cut, clear, dredge, draw not only on the water but also in unbearable terrain with water.
In the PLOSAB workshop we manufacture and perform service and maintenance of floating machines.
In the field of silt - sediment extraction - we can offer full range of services from initial sampling, geodetic survey of the habitat, laboratory analysis, through sediment extraction to the final processing or storage of the extracted material.
Removal of silt from ponds / lakes

Mining of sediments


Sediment
processing

Sediment drainage

Accredited
Laboratory

Sediment measurements


Locksmith
workshop

MMachine and locksmith manufacturing

We perform the extraction of sediment by floating suction dredgers from ponds, rivers and industrial catchpits



Exctracted sediment is subsequently processed by machine technology or GeoTube Tencate®.


We also offer accredited sampling of sediment, processing and analysis of the sediment sample in accredited laboratory.

We are certified for the manufacture, repair and refurbishment of vessels including rigging and machinery.
---
Exctraction of sediments – Removal of silt from lakes by floating suction dredgers

Our offer includes all necessary activities from investment plan, through the extraction and transportation of materials to processing and storage of the extracted sediment.
When implementing removal of silt from ponds and rivers, we build on many years of experience with the extraction by floating suction dredgers and with the processing of extracted sediments.
We extract from any depth and we are able to draw material within a few kilometers. The exctraceted water-bearing material can be further processed – dewatered.
Removal of silt from lakes – additional services
We provide services related to mud removal from ponds, rivers and water bodies /areas:
examination and analysis of samples
Determination of the appropriate technology of silt removal and disposal of the sediment
Project planning & consultancy
We provide the above mentioned services with our own and external resources.
---
Machine and mechanical workshop in Jindřichův Hradec

In this area we focus on these services:
mechanical (locksmith) works
machine tools (lathes, milling machines, drills …)
machine tools for shaping & slotting
welding (iron, aluminum, stainless steel)
metal sheets cutting and bending (length 2 000 mm, thickness up to 3 mm)
carrying out work at the customer´s site
manufacture, repair and refurbishment of vessels, including rigging and equipment
We are certified for the manufacture, repair and refurbishment of vessels, including rigging and equipment.
---
Accredited Laboratory – finding, locating of sediment by measuring boat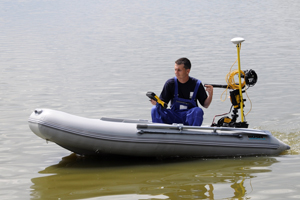 Since 2010 we have been measuring the water surfaces with the measuring boat VODOMĚRKA, including data processing, calculations of the volume and printing of map data.
Sediment sampling and processing in an acredited laboratory
We offer accredited sampling of sediment, processing and analysis in an accredited laboratory, evaluation of analysis results, sampling and determination of agrochemical characteristics of the soil for which the sediment is to be used and developing of a study as to the use of sediment from water reservoirs.
All services are provided by a team of professionals in their field.